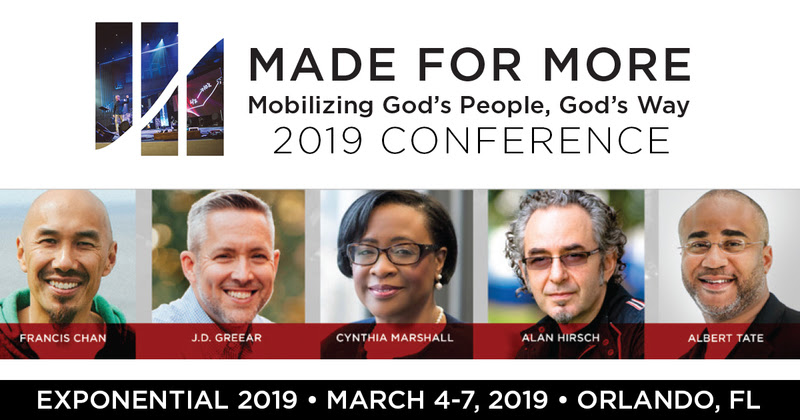 You may not know this, but Discipleship.org's roots are associated with our partner and sister ministry Exponential.
Most people know Exponential as the world's largest gathering of church multiplication leaders and church planters. The truth is, Exponential is not a conference but a community of activists who are sold out to see the percentage of U.S. churches that ever reproduce increase from less than 4% to greater than 10%.
Just as Discipleship.org fans the flames of disciple making ministries across North America, Exponential pours gasoline on 100+ denominations and networks to see the acceleration of healthy, reproducing communities. As Exponential continues to lead the conversation for church multiplication, Exponential advocates that Jesus' method of disciple making must be the core mission of the church in order to see the number of reproducing churches move from 4% to 10% and beyond.
In fact, they have identified the 3 key elements of Kingdom multiplication as disciple making, mobilization, and capacity building (new church plants). Going into 2019, Exponential is focusing on the multiplication key element of mobilization with the theme Made For More: Mobilizing God's People, God's Way.
Here's what we know at Discipleship.org and Exponential, when we make disciples who make disciples, these disciple makers will be mobilized into their unique calling to see more disciples made in every crook and cranny of our culture.Exponential wants to ignite a revolution in our churches where we see every Christ follower embrace and live out their Ephesians 2:10 calling to make disciples where they live, work, study, and play.
As a church leader, wouldn't you love to see an army of people from your church deployed to live on mission in your community?
Let me highlight the 6 shifts Exponential advocates for you:
Shift 1: From More Effort to More Jesus (Ephesians 1)
Shift 2: From More Volunteers to More Masterpieces (Ephesians 2)
Shift 3: From More Guilt to More Love (Ephesians 3)
Shift 4: From More Hierarchy to More Missionaries (Ephesians 4)
Shift 5: From More Programs to More Mission Fields (Ephesians 5)
Shift 6: From More Strategy to More Surrender (Ephesians 6)
Which one grabs your attention the most? For me, it is shift #2.
I am excited to invite you to Exponential Orlando 2019, March 4-7. Discipleship.org is hosting one of the 10+ Pre-Conference sessions along with 3 workshop tracks during the main conference. Exponential Orlando will host 200+ workshops and over 150 speakers including Francis Chan, Dave Clayton, J.D. Greear, Ed Stetzer, and Dave Ferguson. Click here for more information.
For King Jesus,
CEO, Discipleship.org